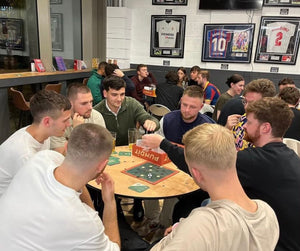 Don't take our word for it...
★★★★★

Great game, love the different
difficulty levels.
★★★★★

A fantastic game for all the football fanatics out there! Whether it's for a pre-match warm-up with the lads or after the game, it's got something for everyone.
★★★★★

I bought the game recently and I love it. It's great to play with family and friends and I would recommend it to anyone. Give it a go!
★★★★★

Excellent to play with family and
friends!!
★★★★★

Took this to the pub and the lads loved it! Would recommend this game for all football fans looking for a fun and challenging game.
★★★★★

A Great range of questions for old and new lifelong football fans! Got the old gray matter working for some great questions on the 80s and 90s footballing era.
Dom Matteo
Scotland, Liverpool, Leeds
"It didn't take long to learn – its great to have something new out there not seen before! Well done!"
Daniel Gray
Author/writer, When Saturday Comes, Nutmeg
"Pundit is brilliant. It is Trivial Pursuit for the football fan. A perfect, enjoyable way to prove that knowing the names of obscure left-backs is important."
Mikkel Bischoff
"Incredible game! Takes you on a journey through footballing history in such a fun, original, and nostalgic way."
Mads Junker
"All football fans need this game! It's ingenious entertainment for celebrations, game nights, or even the dressing room!"
Learn how to play
What is Pundit?
PUNDIT is football's original trivia game. Like no other.
Made for fans like ourselves, who love to revisit memories of legendary players and iconic moments!
Challenge friends and family to see who best remembers the forgotten greats, cult heroes, one-hit wonders, fringe players and next-big-things – to take the PUNDIT crown!
Original Pundit questions
900 iconic players
The answer to an original PUNDIT question is always the name of an iconic footballer.
Indulge in 900 questions across memorable categories like the 90s Premier League, The Three Lions, World Cup or even Italian legends.
Park the bus and opt for the 'Easy' difficulty, or take a risk with the 'Hard' questions.
Tactic cards
Outsmart opposition with surprise tactics
Tactic cards can turn the game upside down in an instant – and can be played by either the attacking or the defending team.
Collect as many Tactic cards as possible early on in the game. This will allow your team to win back possession or boost your own attacking prospects.
About us
Aodhan Brownlee
Aodhan Brownlee is a huge Newcastle Fan. Lives in Darlington. Will meet you all over England at football fairs.
Jonas Hagemann Jensen
Jonas comes from a small town called Odense in Denmark. OB anyone? Huge football nerd, remembers Tonton Zola-Moukoko from Championship Manager.
Twitter
Sajeev Shankar
Sajeev used to work as a football journalist, and a good one at that. Raised in a small town called Ikast, but loves Arsenal!
Godfred Hansen-Nord
Godfred loves FC Copenhagen and will know everything about Spanish football.